A visit from an author or poet to a school is a great way to inspire students and bring reading to life. Thanks to poetry Ireland, who part-fund author visits and provide a list of available authors I have been able to invite an author at least once a school year. Students have responded very well to authors who have come to Cluny Library in the past. Each author has had his/her own style be it an informal chat or a writing workshop. All authors have spoken about the value of reading, how they became writers and what students need to do. I do hope that these visits will be of value to any aspiring writers. Below is a brief summary of authors and poets who have visited Cluny Library in the past.
Dave Rudden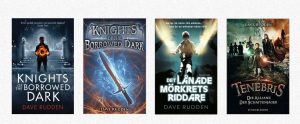 Thank you very much to author Dave Rudden for running a creative writing workshop for our First Year students on Wednesday the 28th of April via Teams. Dave introduced students to sources of inspiration that could be used for writing and how everyone can write a good story. By taking inspiration from past experiences and even objects, a spark of creativity can be found.
Alongside tips for creative writing, Dave also performed a reading of a section from Knights of the Borrowed Dark which he then explored with students, detailing the inspiration for it.
Dave is the author of the acclaimed Knights of the Borrowed Dark series and has also written stories for BBC's Doctor Who.
Denise Deegan
Denise Deegan is most popular for the Butterfly Novels which have been hugely popular amongst the students in this school. These books are about three friends in transition year that go to Strandbrook College. The three books And by the way , And for your information and And Actually have been a huge success and it's not surprising because the books were thoughtful, engaging and kept the reader gripped to the end. More importantly they are about love, loss and friendship. Denise has visited this school a couple of times and each visit was a huge success. Denise gave the girls some very useful tips about story-telling, spoke about her own experience as a writer and encouraged everyone to read. She got the students to do some writing exercises and had a little book club discussion at the end and the students. It would not be at all surprising if Denise's visit not only created more enthusiastic readers but also some future budding writers.
Tony Curtis
There are probably not many people in this world that could have spoken about Connemara ponies, squashed mice and poetry and still manage to keep first year students so transfixed they didn't want to leave when the final bell went. That's what happened when Tony Curtis paid a visit to Cluny library. Tony's wit and quirky sense of humour kept the girls enthralled as he talked about haikus, sonnets and acrostics. "Stopping by the Woods on a snowing" by Robert Frost is a beautiful poem and Tony added to its' charm when he produced his guitar and sang it. The girls had learnt it off by heart and were happy to sing along on cue. Tony's session was amusing, charming and informative. He did a wonderful job of bringing poetry alive.
Sarah Webb
Sarah Webb, author of the Amy Green series visited Cluny Library for the first time in January 2016. It was really more of an informal chat than a lecture. She started the session by talking about her school days and how she loved writing as a child. She spoke about the publishing and editing process and showed the girls some examples of her written work. She also chatted about some books she loved when she was a teenager and recommended current teenage books to the girls. I thought she engaged and interacted really well with the girls. The girls had plenty of questions for her during the question and answer session such as what it was like to be an author etc. I do hope the girls enjoyed the session and by the looks of things, it seems that they did.