Parents will often ask what books they can pick for their children for over the summer holidays. They want titles that will supplement their children's academic progress, improve their vocabularies, and whet their interest in new topics. Of course, they also want these books to be enjoyable.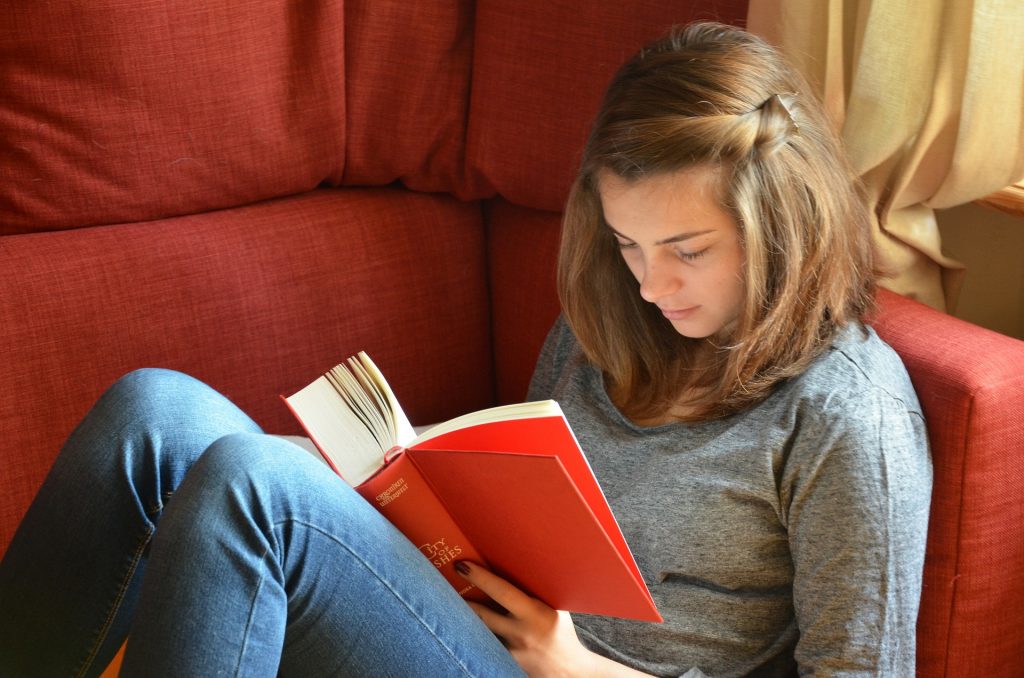 In my experience, someone who reads for life  is often voracious, undiscriminating and eclectic in their taste. I have seen teenagers checking out five books at once, happily including Maeve Binchy, J.K. Rowling,  Manga (a Japanese comic book), Charlotte Brontë and Chinua Achebe.
We worry about whether their reading material is challenging them sufficiently or whether they should be reading more nonfiction. Writers ponder whether it is time for them to move beyond mass-market fantasy series and try contemporary fiction while, perhaps hypocritically, adults around the world are buying and reading Young Adult literature in droves.
As a school librarian, I usually find that the reader finds their own way along this path, and at their own speed. Reading for reading's sake is enough. Once a young person has caught 'the reading bug', the rest (usually) follow. Not everyone takes to reading at the same pace, and it takes all of us a while to find our favorite books.
Even the most avid readers go through reading slumps. Some teenagers are reluctant readers and others get stuck in 'reading ruts'. If you would like to encourage your reluctant reader, why not read the following article published by the Scottish Book Trust?
Sometimes the world of teenage fiction (also known as Young Adult (YA) Literature and other names!) seems alien to us. Talk to your daughter about what she's reading (with an open mind) and maybe even try it yourself. You might be surprised. After all, there's a reason why children's and YA books make up the majority of the books borrowed from libraries each year in Ireland.
Public Libraries
We are blessed with beautiful bookshops in Dublin, but there's no doubt that books are expensive (especially if you have a teenagers reading five novels a week). We have a great public library network in Dún Laoghaire Rathdown, so if you haven't joined up yet, now is your chance. Find your local library here.
As a member, your daughter will be able to borrow 12 items, including items from other public libraries. She will also be able to borrow another 12 items from the downloadable collections (i.e. ebooks and audiobooks).
BorrowBox is now available through most of our local libraries. Need a break from screens or reading, why not try an audiobook? BorrowBox has excellent audiobooks for many mainstream titles, including a wide selection of YA and contemporary fiction.
Local libraries also run a wide variety of events which can help your daughter develop new skills including creative writing and reading.
Reading and Media Resources
Common Sense Media is a website for parents, educators and others who work with young people. It provides reviews and ratings of books, games and films with age guidelines based around content, language and maturity. The reviews are written by parents and teenagers. This is most helpful when a parent already has a title in mind and is unsure about whether their teen might be interested or if the content will be suitable, rather than as a starting place to look for reading recommendations.
Goodreads is an online reading community. Members can list the books they have read and the books they like in their personal bookshelf, give them ratings and reviews.
If your teen adds her favourite books with ratings, Goodreads will start to suggest other books for her to read based on her preferences.
Writing and reading reviews, completing reading challenges, joining online book clubs and other similar activities are great ways for your teen to engage with a reading community and to find new books.
Cluny Library has its own Goodreads Account. If you look around, you can find some of our recommended reads for younger and older teens. Our book recommendations are all linked here too, and you can click through for reviews from the Goodreads community.
Teen Bestseller Lists
Most bookshops display their best-selling or trending YA, or at least a well-curated list. It's worth keeping an eye on those.
Articles and Blog Posts
Nine Ways to Get Teens Reading (Common Sense Media blog post)
Scottish Book Trust 6-ways to encourage a reluctant reader
How "Young Adult" Fiction Blossomed With Teenage Culture in America
What Exactly Is 'Young Adult' Fiction?